Magne Shade review by Love to Wander RV for their 5th wheel
Posted on: April 24, 2019 at 4:59 pm, in

Dale and Ginny, the individuals who run the Love to Wander RV blog, were kind enough to let us share with you a post they made last year on their website, lovetowanderrv.com.

You can view their posting below or by going to their site: https://lovetowanderrv.com/magne-shade/
Too Much Sun and Heat

Our 2017 Open Range Roamer 347RES did not come or option out with "blackout shades". We have the standard according draw-up shade on our windows. It did not take us long while camping in the summer heat to find out that our shades were inadequate. The rig would heat up in the midday sun, up went the silver bubble mat insulation, down came the shades there goes our view.
I was searching around the web for a solution. I came across blackout shades, pulled down shades to allow light but block sun UV rays all fairly expensive and most would call for complete removal of our current curtains and shades. I follow Techno RV, and read a post regarding their recent installation of a product called Magne Shade.

Magne Shade
The patented Magne Shade™ system uses small but very powerful Rare Earth magnets that are mounted on the outside of the window with a hi temperature 3M peel and stick tape. Our shades are designed to fit your coach glass tight, we incorporate a simple and effective fabric adjustment system in our design so your shades won't stretch out of shape and sag over time, as a snap-type system can. Magne Shade™ is simply the best custom RV shading system in the market place.
I'm Sold
Magne Shade features Class A windshield and side window installations on their site. It certainly looked to me that these would work just as well on Fifth Wheel Campers windows as well. I reached out to the company and they walked me through the measuring process and helped identify the corner radius of our windows for proper fit. We have cantilever windows throughout the rig. My rep, Greg gave me specific instructions regarding the measurements for proper fit and trim. I took my measurements, placed my order and four weeks later they arrived at my door.
The Installation
I will be sharing an installation video from their web site below. Although the owner of the company single-handedly installed the Windshield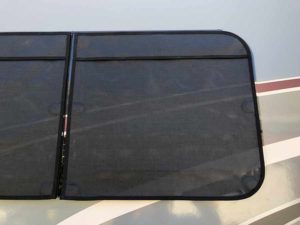 shade on a Class A, I would suggest you get a partner to help you out. The one hold back to the process is if you do not have your rig indoors you will need to wait for a 72 hour period of warm and dry weather to install the magnets.
Installing the magnets for two large and one small shade was done in short order. After the recommended 72-hour curing process for the adhesive, it was a snap to place the shades up. I did purchase the install bar to give me a bit more reach, and it worked like a charm from ground level.
The Results
Our first real test of the shades came in August of 2018. We were camping in Western NY with the rig facing south. The entire side with the large dining room window was facing west. The afternoon sun was beating down on Natasha. The shades worked perfect, cut the sundown, keeping the interior cooler and we could see out the windows fine. I would highly recommend this product.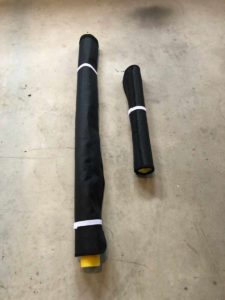 The manufacturer recommends rolling the shades up when you store them. By the way, you will not be traveling with these positioned on the rig. The magnets are strong but rolling down the road at highway speeds will surely blow these off. I store mine away under the rig rolled up on pool noodles. It has worked fine and the shades keep their shape.
In the end, these have been a great solution for our needs. They are less expensive than new interior blackout customs or sun shades. Here is a link to the web site for more information: Magne Shade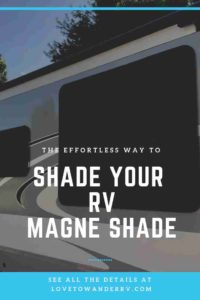 ———————————————————————————————————————————————————————————————————————————–
As Dale and Ginny mention in their posting, though we don't offer them through our online store because there are so many different windows on so many different models we do offer our Magne Shade system for both 5th wheel and travel trailers.  If you call our office we can get you diagrams for exactly what dimensions we need to build your shades based on your window types.  When you call if you also have some rough dimensions for the windows you are looking to cover we would be happy to get you pricing.  We are typically in shop Monday-Friday 8 AM – 5 PM (EST) and are happy to talk to you about any questions you may have.  And as always if you email us and don't see a response in a timely manner please check or spam/junk folder as the attachments we include to help you with your order can confuse some email filters.
← back to news
Email:
info@magneshade.com
✱ Installation is available at our NC facility